<   I   >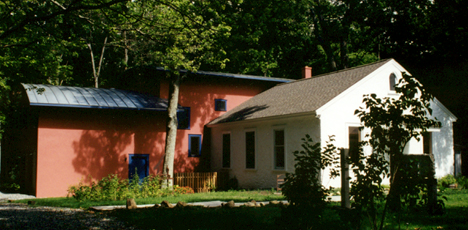 Denney-Fuhrman Residence, 1998
Addition to 1867 Lincoln School House
Published: Philadelphia Inquirer Magazine, May 13, 2001
When we joined out two lives and households, it was necessary to expand and renovate the 1867 Historic landmark one-room school house. We wanted to create a place which embodied a spirit of openness and generosity. We also felt a profound need to connect the interior to the outside…to the ground. Further we felt the need to preserve the tradition of the original building.
The addition has two galvanized steel, standing seam, barrel roofs. The eaves extend three feet keeping the sense of 'connected to the ground' and not dominating the original building. The dark red and blue colors of the addition recede into the  dark surrounding woods emphasizing original white school house.
Additional images to follow at a later date.