J A M E S F U H R M A N
Building Blocks-- The Unity Award. 2001
Unrealized proposal for 25th and 26th Police District Building
Granite blocks, 10x60', Maquette shown.
View from right.

A principle element of this work is the creation of an award to be given to a member of the community "For Promoting The Spirit Of Harmony Unity, And Equality In The Community". It recognizes that contribution with an inscription on this wall in the lobby of the police district headquarters. The award is to be administered by the Police District Advisory Committees. Having the award here in the lobby of the Police District Building gives a place for both community and police involvement in the building.

The three-dimensional illusionistic pattern acknowleges the mosaic of the multi-ethnic community and the place of the individual as a part of the larger community.

The pattern has multiple views depending on the viewer's orientation within the architectural space.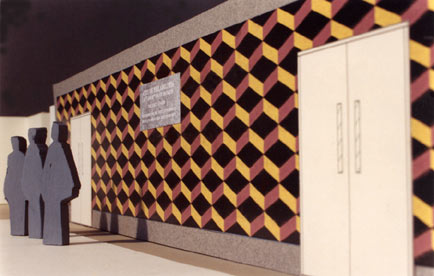 ---