J A M E S F U H R M A N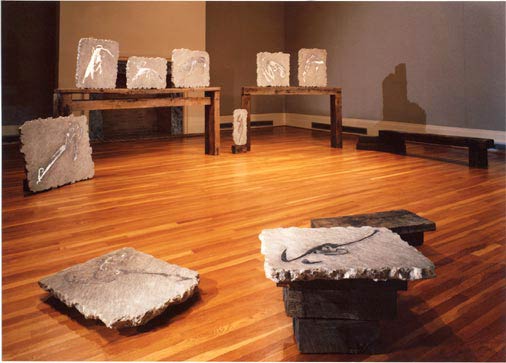 Marks and Messages,
1992
Berman Museum of Art, Ursinus College, Collegeville, Pa.
One person exhibition/installation including sculptures and drawings, poetry,
process videoand catalog.
Communion Stones
, Stainless steel, concrete, oak. Installation 6 x 16 x 12'
One of four installations of 31 sculptures.
Counterclockwise starting from the front:
Newmark's Gift: Gesture of Story
Speaks Volumes of Ancient and Unknowable Marks
Play In Time's Telluric Currents: Aosta's Dance

Community's Dilemma
Fear of New:Strength of Difference
(Close Image)
Intensity's Edge
(Close Image)
Lines of An Unspeakable Fury

Transcendant Song
Lamentation Spiral
Tempest of Joy: Discovery's Light; Communion's Touch.
Exhibition catalog and additional images available on request
---
Photo: Bob Emmott